The life of a woman is hanging in the balance. No thanks to the porous security system of self acclaimed largest bank in Africa, United Bank for Africa.UBA.
The woman, Olori Adenike Babalola Okekporo, became a victim of online fraud on Tuesday May 24, as her account with the bank got emptied of N2 million naira, with the fraudsters leaving only N700 in the account.
Efforts to get the bank to return the money since the lapse happened from their end and she didn't make the withdrawals, has proved abortive which prompted Okekporo to publicly voice out her frustration.
According to the lady, most of the money was fraudulently withdrawn while she was on a telephone call with the bank's customer service.
"Finally @UBAGroup has aided fraudstars and hackers to empty my account. 2 million naira gone within minutes while I was on call with their call center reporting suspicious activity on my account. @cenbank (Central Bank of Nigeria) tell @UBAGroup to refund my money.
"Immediately I received the first N500,000 alert, I called the bank immediately. While the customer care was still asking me stupid questions, the second alert of another N500,000 entered and another and another.
"These people messed with me psychologically. N2.1m naira just disappeared from my account. UBA you will kill me first. I can't remember the last time I cried like this. I feel so helpless," she lamented.
"I don't have an ATM card for the said account so UBA, explain to me why you refused to transfer my funds since February that I wrote to you.
REASD ALSO: American Defrauded Two Nigerians Of $368,698 — FBI
"How were they able to withdraw above the daily limit, how?" she wondered.
Besides the 2 million naira, Okekporo claimed that the bank had earlier refused to release the money her university, which she didn't name, refunded her.
"Just because I was begging @UBAGroup and @UBACares to release the money my university gave me. @cenbank tell @UBAGroup to refund my money. Nigerians help me.
"Every student in the UK and @cenbank should help me beg @UBAGroup to give me my £1050 my university refunded since November 2021. Presently, I'm stranded and I need to pay my house rent. I don't have any other money.
"@cenbank should please help me on this issue. My landlord in the UK gave me 8 days to pay my rent.
"When you see me under duvet on the street, homeless, just know that UBA Group and Central Bank of Nigeria did that to me because my landlord will not hear stories.
"And @UBACares have stopped responding to my email. My £1050 has been in that bank since 2021. And I has requested for it to be transferred since February 2022.'m yet to receive it.
"I made my transfer request since 23rd of February 2022. After filling series of forms, I was made to do video verification on WhatsApp on the 4th of April. The officer said my issue would be sorted within 48hrs.
"Last Thursday, I recharged my Nigerian line so I could call their customer care because the same CFC has refused to respond to my email, yet I have not received my money. Today is 21 May 2022. I did video verification on the 4th of April.
"It was while I was on call with them that this fraud was committed."
Below is a screen shot of the debit of N2 million.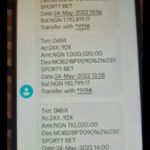 The bank having been called out on social media, reached out to Okekporo.
"Hello @OloriAdenike13, thank you for contacting UBA, Africa's Global Bank. Kindly provide your mobile number, account number, email address and date of the disputed transaction to enable us assist. We regret any inconvenience this may cause. Thank you."
The account was eventually frozen and her debit card blocked by the bank after the fraudulent transactions, to safe guard the account.
Although she had earlier stated that she doesn't have a debit card for that account, the bank however informed her of the need to request a new debt card at the cost of N1,075.
However, up until this piece got published, UBA is yet to retrieve her stolen money or make a transfer of the £1050 from her school in the UK.
But a few concerned individuals have privately reached out to her to donate their widows mite.
This incidence is just one out of many fraudulent activities that is being carried out on accounts of UBA customers as testified by some of her social media followers who shared their own bitter pill stories with the bank.