….clear drainage LASEMA task community leaders
Several communities, streets, and houses were submerged by flood on Friday and Saturday following the over 48-hour downpour which wrecked havoc in different parts of Lagos.
The rainfall which began early on Friday continued till Saturday night rendering many residents homeless on the Island, mainland, and outskirts of the state.
Houses and cars in some parts of Okota, Apapa, Festac, Ago palace way, Amuwo Odofin, Surulere, Abule-egba, Oko Oba, Ikeja, Lekki, Ajah, Ejigbo, Jakende gate, Ikotun, Ajangbadi, Volks, Agbara, Mowo, Magbon, Okafor, Badagry, and Igbogbo/Bayeku Road, at Ikorodu were flooded as residents struggled to save their valuables.
Ruth who lives in Ilogbo area in Oko-afor said that since Friday, my children and I have been parking water from our house as flood entered. We have been trying to save some of the properties as water-filled everywhere. This is our fate anytime there is a heavy downpour."
According to Okoye, a commercial bus driver who spoke to Nigeriacrime.com said I suffered on Saturday at Volks, along Badagry Express road. The entire place was like a swimming pool on Saturday. Flood was drowning cars and commercial buses. The issue of folks is complicated because it has become the headquarters of traffic jams. If you get trapped in Volks traffic you might spend the night there. Motorists plying that route are suffering along Badagry expressway."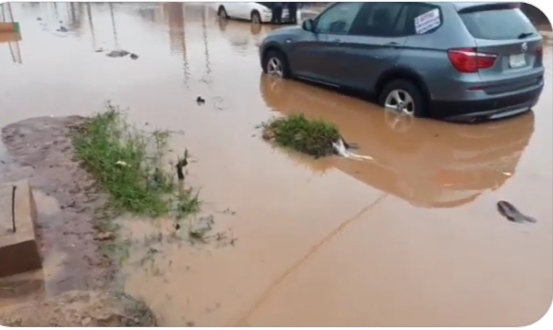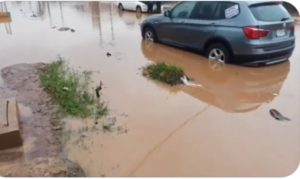 Lamenting a resident, in Ikorodu Babatunde Oseni, said the flood in Lagos is getting worrisome and some houses are on brink of falling. It is sad, that Igbogbo/Bayeku Road, at Ikorodu, because of the rainfall has become impassable for vehicles and those trekking. A commercial motorcyclist has inflated their fare. A ride from one bus stop to another, costs between N300 – N600, while buses from Ikorodu Garage to Bayeku are N500.
Babatunde whose car was flooded on Friday said: when I closed from work, I discovered my car has been flooded."
Another resident in Ago Palace way Ishola Balogun, said on Saturday evening, a dispatch rider almost knocked me down. The rider alleged the bike breaks have become faulty because of the flood." "My street is well tarred but the flooded almost to my thigh level. From Community Road down to Apple junction was flooded while Amuwo Odonfin was like a river on Friday and Saturday, words can't explain the flood happening there. These are major roads, the inner street, are no-go areas."
A dispatch rider, Mike said I couldn't work on Friday and Saturday because most parts of the city were flooded. I couldn't take the risk of getting drowned in the heavy downpour. I told most customers that they will have to wait, till Monday.
Recounting his ordeal, Okunoye Paul explained that a ten-minute drive on Saturday took me over four hours plus. Still, I ended up parking by the gas station and swam home. You need to see the flood in Surulere, cars were filled with water even on the streets.
According to an artisan, Biola Adetunji, "I stay at Lekki but not all areas in Lekki are flooded. Some parts are flooded while areas with drainage systems are not. The flood is caused by blocked drainage channels.
Over the years flooding in Lagos has become an annual issue that requires urgent attention from both the federal and state governments and relevant agencies.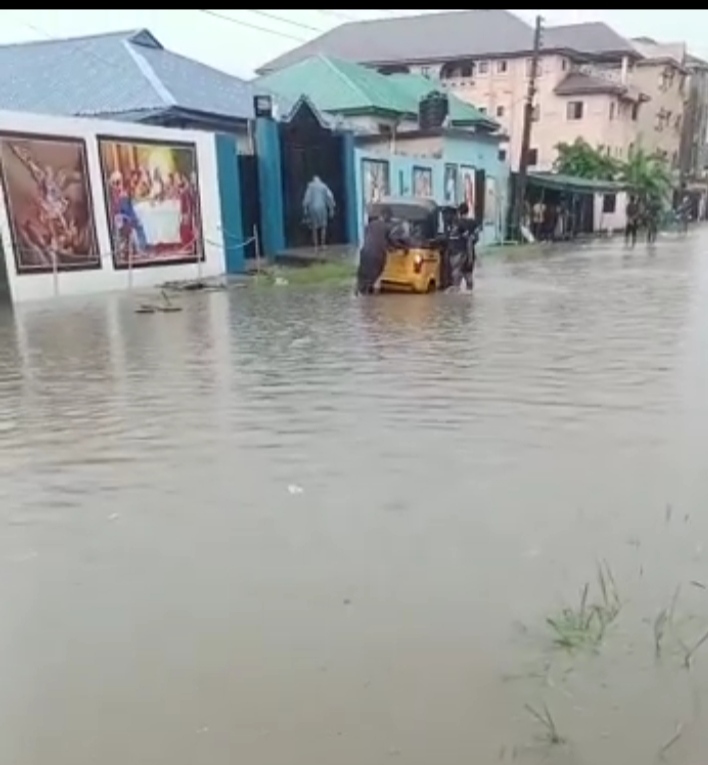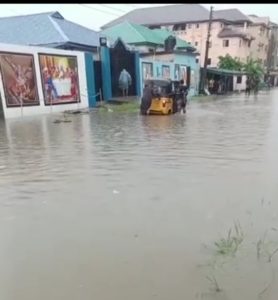 Meanwhile, the Lagos State Emergency Management Agency, LASEMA, Dr. Olufemi Oke- Osanyintolu, has appealed to community leaders to spend the ongoing public holidays carrying out some remedial clearing of blocked drainages in their respective locations.
This is sequel to the perennial flood occasioned by constant rains across the state.
Dr. Olufemi Oke- Osanyintolu, appealed, on Sunday, following the Saturday downpour and its resultant effects on residents.
"We wish to reassure the good people of Lagos that we are on standby via our emergency lines 112/767 to respond.
"We are also urging Lagosians to avoid nonessential travel in areas that are most affected by flooding. Parents and guardians are to keep their children and wards warm and dry to avoid secondary illnesses.
"This is an appeal to community leaders to use the public holidays to carry out some remedial clearing of blocked drainage.
"This will allow for free flow of stormwater and reduce the impact."